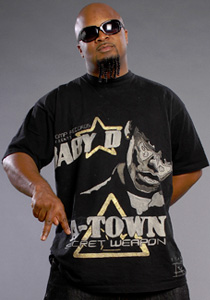 Website | Facebook | MySpace | Twitter
DJ Jelly, known as The Stamp of Approval, is a student and teacher of Hip-Hop and is considered one of the most influential DJs, not only in the South but all over the world. Although his Dirty South style of Hip-Hop was not recognized until early 2000, Dj Jelly along with his partner Mc Assault, enthusiastically led the crusade and have been able to remain a relevant force in the nurturing and building of this very important and evolving segment of hip hop.
Just shy of two decades, his accolades are as plentiful as is his ubiquitous work schedule. Among the last of a dying breed of truly skilled DJs, he remains passionate to his performances and continues to use the basic elements of cutting, scratching and mixing and is well known around the world for his unusually creative remixes, as well as, his distinct musical interpretations.
Jelly's parties are CRUNK to the highest power of pure energy; they are intense and alluring to all races, cultures and creeds and have taken him from Montgomery, Alabama to Toyko Japan – he is internationally known and hood respected!! He is a product of the infamous "Freak Nik "events of the early 90's that helped make Atlanta the music mecca that it is today. Jelly continues to entertain millions around the world through his diverse range of Dance, Old School, Reggae, R&B and Hip-Hop music.
Additionally, this talented DJ has been a key factor in breaking local Atlanta artists such as OutKast, Lil Jon, T.I, Jeezy, and Dj UNK, to humbly name a few as well as breaking artist into the southern market such as The Notorious Big,Lil Kim,Faith Evens,Craig Mac, Timberland, Cassidy, 3'6 Mafia, and Fat Joe. This was done, in large part, along side his DJ Crew, the Southern Style DJs who have collectively sold millions of Mix CDs and Mix DVDs throughout their 10-year affiliation.
Jelly has won numerous awards in his career including the prestigious Justo's Mixtape" Dirty South DJ of the Year" in 2003, TjsDJ's 2004 "TasteMakers Award" 2004 SEA's "Best Blend Tape " and most recently SEA's 2008 "Dirty South Dj of the Year" along with a host of other nominations that range from the Legendary Mix Show Power Summit to The Source Awards.
His high profile events, dj artistry and his ability to recognize and break new talent placed him in the limelight with countless appearances on BET's "The Basement and "Rap City" as well as, MTV's "Direct Effect", "Made", "My Super Sweet 16"and Play Boys"Queen of the Club"documentary. Adding to his multi-media journey, Dj Jelly has appeared in numerous print and online publications such as The Source Magazine,XXL,Rap Mullet,Nah Right,and sohh.com.
Dj Jelly's business savvy led him to co-founding the legendary independent label "BIG OOMP RECORDS" as well as a chain of music retail stores, BIG OOMP RECORD STORES , that have become a staple in Atlanta's urban music scene. With a popular T.V. show under his belt(Live With The Oomp Camp) and endless community and social networking programs…. Dj Jelly has been able to embody the true meaning of" THE STAMP OF APPROVAL"!